Design Holiday Home Almhütte XL Ski Amadé
Location & Directions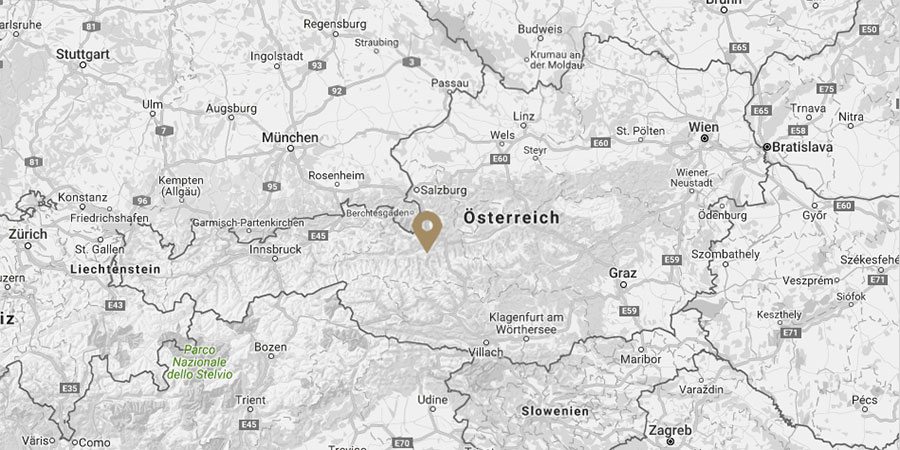 Design Ferienhaus
Almhütte XL Ski Amadé
A-5621 St. Veit im Pongau
Austria
Tel. +43 664 73 53 68 22
The last few meters to our Alpine chalet
A paved road brings you to about 1 km from the chalet, while the final 1,000 meters are up a steep gravel lane. You can park your car right in front of the chalet, where the car park has space for about 5 vehicles. In winter, you will need a car with four-wheel drive and/or snow chains to make it up the gravel road. We make every effort to make this section passable, though can't always guarantee it due to the changing weather conditions. If it does turn out to be impassable, we will transport your luggage on a snowmobile.
Road Conditions & Traffic Reports
The closest airport is Salzburg "W. A. Mozart" (about 66 km away). If you prefer, Munich "Franz Josef Strauss" Airport is around 205 km from our Alpine chalet.
Ideal Location in Salzburger Land
Stand-alone setting in St. Veit im Pongau
Gateway to Ski amadé: 7 km
Salzburg City: 65 km
Liechtensteinklamm Gorge: 3.5 km
Giant ice caves in Werfen: 28 km
Dachstein Glacier: ca. 58 km
Lake Zeller See: ca. 38 km
Krimml Waterfalls: ca. 88 km
Lake Wolfgangsee: ca. 88 km
Lake Königssee: ca. 65 km
Hallstatt: ca. 77 km
Grossglockner High-Alpine Road: ca. 45 km